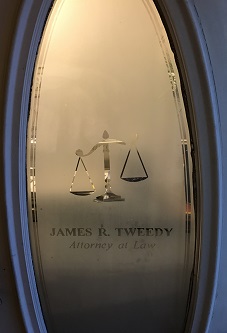 Well-established Bloomfield, Missouri Attorney
Providing Quality and Valuable Legal Services Since 1994

Tweedy Law Office, LLC is a client-centered Southeast Missouri law office located in Bloomfield, the County Seat of Stoddard County Missouri. Our law office has provided reliable and professional legal services in Missouri since 1994. With more than 25 years of experience, James R. Tweedy can handle an expansive array of legal matters. Tweedy Law Office has the tools and connections to take on complex cases, such as civil wrongful death claims and felony criminal cases, as well as more common legal matters such as handling traffic tickets and deed preparation.
Jim and his staff hold themselves to the highest standards of ethical behavior. His reputation among his peers for his professionalism and ethics has earned him a BV® Distinguished Peer Review Rating by Martindale-Hubbell®.
Providing Direct, Honest and Experienced Services
Tweedy Law Office, LLC has provided a strong and consistent presence in Southeast Missouri since 1994. Jim's numerous contacts in the legal community enable him to bring cases to timely and effective conclusion. His legal experience includes work at Oliver, Oliver, Waltz & Cook, in Cape Girardeau in Missouri, an insurance defense firm, upon graduation from law school in 1990 until he returned to his native Stoddard County and opened Tweedy Law Office, in 1994. Jim is a former Commissioner and Vice Chairman of the Missouri Ethics Commission.
He and his staff foster long-standing professional and mutually beneficial relationships with clients. Many of their clients have been with Jim since he opened the office. Client referrals are a testament to the successful results the firm provides and to their clients' satisfaction with their personal attention to stressful legal matters.
Contact a respected Southeast Missouri Law Office today.
Call the Tweedy Law Office, LLC at 573.568.4000 or contact us online to schedule your free initial consultation.
Tweedy Law Office, LLC serves clients in the follow Southeast Missouri Counties: Bollinger, Butler, Cape Girardeau, Dunklin, Mississippi, New Madrid, Pemiscot, Scott, Stoddard and Wayne, as well as municipalities throughout these respective counties.

DISCLAIMER:
Attorney Advertising. This website is designed for general information only. The information presented at this site should not be construed to be formal legal advice nor the formation of a lawyer/client relationship.
The choice of a lawyer is an important decision and should not be based solely upon advertisements.